There is heated debate these days about how modern golf equipment, especially a too-lively ball, is making obsolete many of the traditional "classic" courses. But our great old courses' modest distances are no reason to overlook them, particularly for the average golfer, so several very traditional classics are on this list.
I offer no precise definition of classic. Its meaning, like any choice of a favorite, is highly, if not exclusively, subjective. But there are some generally accepted measures. One is the high standard of accuracy and shot trajectory demanded by the slant, angularity, and undulation of the course's fairways and greens. Another is strategically situated bunkering in the fairways and beside the greens, not to say the location of that most unremittingly punishing hazard, water. These elements must be present throughout all 18 holes for a course to be "classic."
The selections here include only courses the writer himself has played. He could name another 10, but space is wanting. They are in no order of ranking; the first on the list is not necessarily the most classic of all.
1 THE OLYMPIC CLUB (LAKE COURSE), San Francisco, California.
An exquisite representation of the San Francisco area's distinctive geography. Most of the holes are penned in by stands of closely adjacent trees, and the terrain mimics the ups and downs of the city's landscape. (Private club)
2 SHINNECOCK HILLS GOLF CLUB, Southampton, New York.
Five miles from the Atlantic Ocean, it is as close to true Scottish links as can be found in the United States. Wide open to the elements, its sand-based terrain has the pitch and roll of a roiling sea. The grand sweep of the course is magnified by the steady winds that almost invariably rush across it. (Private club)
3 PINE VALLEY GOLF CLUB, Clementon, New Jersey.
A unique example of punitive course architecture in South Jersey's sandy pine forest. Every hole demands a consequential carry over stretches of unkempt scrub desert. The fairways are wide, but the approach shots are monumental challenges to reach shapely and closely bunkered greens. (Private club)
4 TPC AT SAWGRASS, Ponte Vedra, Florida.
Its spectacular, famous (or infamous) island-green seventeenth hole distracts from the 17 other holes, which altogether force a full examination of one's game in the context of the particular demands of Florida golf, with its wind and humidity. (Resort course)
5 COG HILL (DUBSDREAD) GOLF & COUNTRY CLUB, Lemont, Illinois.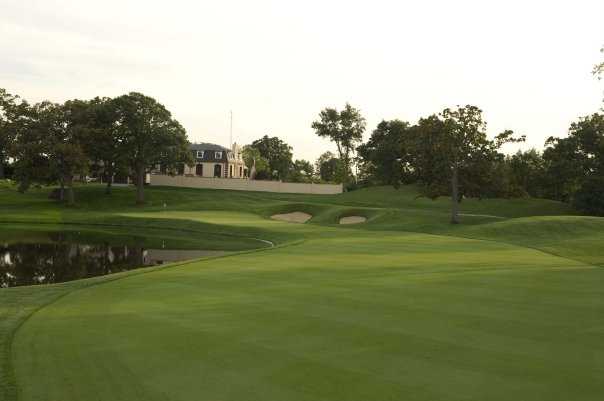 A mid-American masterpiece wherein an essentially flat prairie landscape is sculpted into 18 surprisingly animated holes. Its designer, Dick Wilson, was an artist of the dogleg, with this course his most affecting canvas. (Public course)
6 THE KNOLL (EAST) COUNTRY CLUB, Parsippany, New Jersey.
A sleeper, in that it has never been recognized by establishment golf experts. It is the best work of Charles ("Steam Shovel") Banks, something of a cult figure in the New Jersey area. Banks moved a lot of earth without heaving it here and there. (Public course)
7 PINEHURST NO. 8, Pinehurst, North Carolina.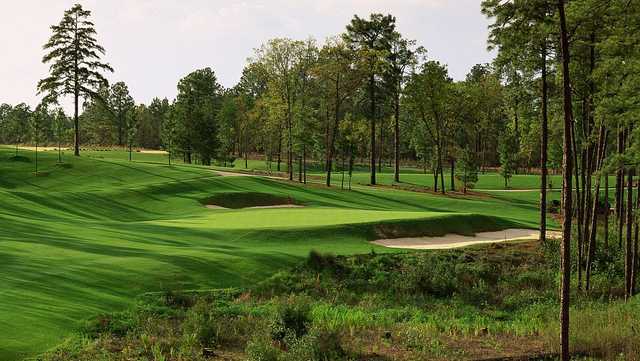 Pinehurst No. 2 is a long-recognized classic, but Tom Fazio's newer No. 8 has the same qualities with fairer putting services: no upturned soup bowls to play to and putt over. A pre-eminent adaptation of eastern Carolinas sandhills topography. (Resort course)
8 THE DUNES GOLF AND BEACH CLUB, Myrtle Beach, South Carolina.
Intriguing, thoughtful shorter holes; steadfast long ones with subtly raised greens that have just the right degree of undulation; plus sharply defined bunkers perfectly placed. A splendid variety of shapes and sizes within its savanna ambience and perhaps the best course among the hundreds designed by Robert Trent Jones, Sr. (Semiprivate club)
9 QUAKER RIDGE GOLF CLUB, Scarsdale, New York. Eighteen U.S.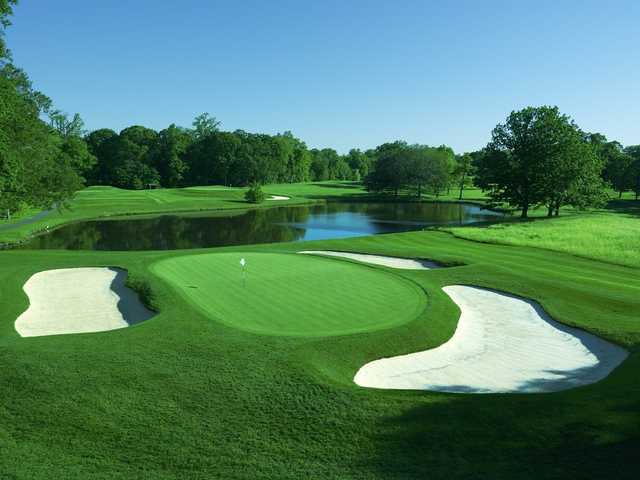 Open-quality holes. This is the best course A. W. Tillinghast ever built, and he is responsible for such other standouts as Winged Foot (a few miles down the road), Baltusrol, and San Francisco Golf Club. (Private club)
10 MERION GOLF CLUB (EAST), Ardmore, Pennsylvania.
An old classic supposedly outmoded by today's equipment. Bah! It's a wonderful commingling of strapping par fours and fives and engaging shorter holes, including the shortest par three ever played in a U.S. Open, all set in a tight yet somehow commodious space. The only complete course designed by Hugh Wilson. (Private club)
Al Barkow, the former editor of Golf magazine, is the author of Golf's Golden Grind and The Golden Era of Golf.